Last year, market analysts RCLCO reported that multifamily units built between 2010-2016 were 7% smaller than ones built between 2000-2009. One might assume the decrease was, at least in part, the result of an ongoing trend of renting over ownership. The credit squeeze following the housing crisis of 2007/2008 has lead to record low homeownership rates for both multifamily and single family homes. The logic follows that multifamily developers started building smaller units designed specifically for the growing number of renters; these units are compact way-stations for people waiting for credit to start flowing again and buy something bigger.
But this logic isn't quite right. A quick read of this statistic suggests that the composition of units was the same, just smaller. For example, 40% of recent multifamily units are two bedrooms, but are 7% smaller than they were before. But this is not the case. Much of the shrinking unit size was due to the redistribution of unit type rather than unit size reduction. More specifically, there is a market shift that favors studios and one bedrooms over two and three bedroom units. This shift was not limited to one region or market segment: East, west, north, south, central, high market, low market —they all experienced the shift.
Why We are Choosing Fewer Bedrooms?
The simple is reason is that household sizes are shrinking. To illustrate, the average American household today has 2.54 people; in 1960, it was 3.33.
Several factors play into this trend. On the young side of the age spectrum, millennials are delaying both marriage and having children; when they do have children, they are having fewer of them. On the other side, 10,000 baby boomers turn 65 each day, most of whom are empty-nest, single and two person households. And across all segments, more people are living alone. The national average for single person households is a record high 27%. All of these segments, coupled with reduced access to credit, have created a huge demand for smaller, more affordable multifamily rental units.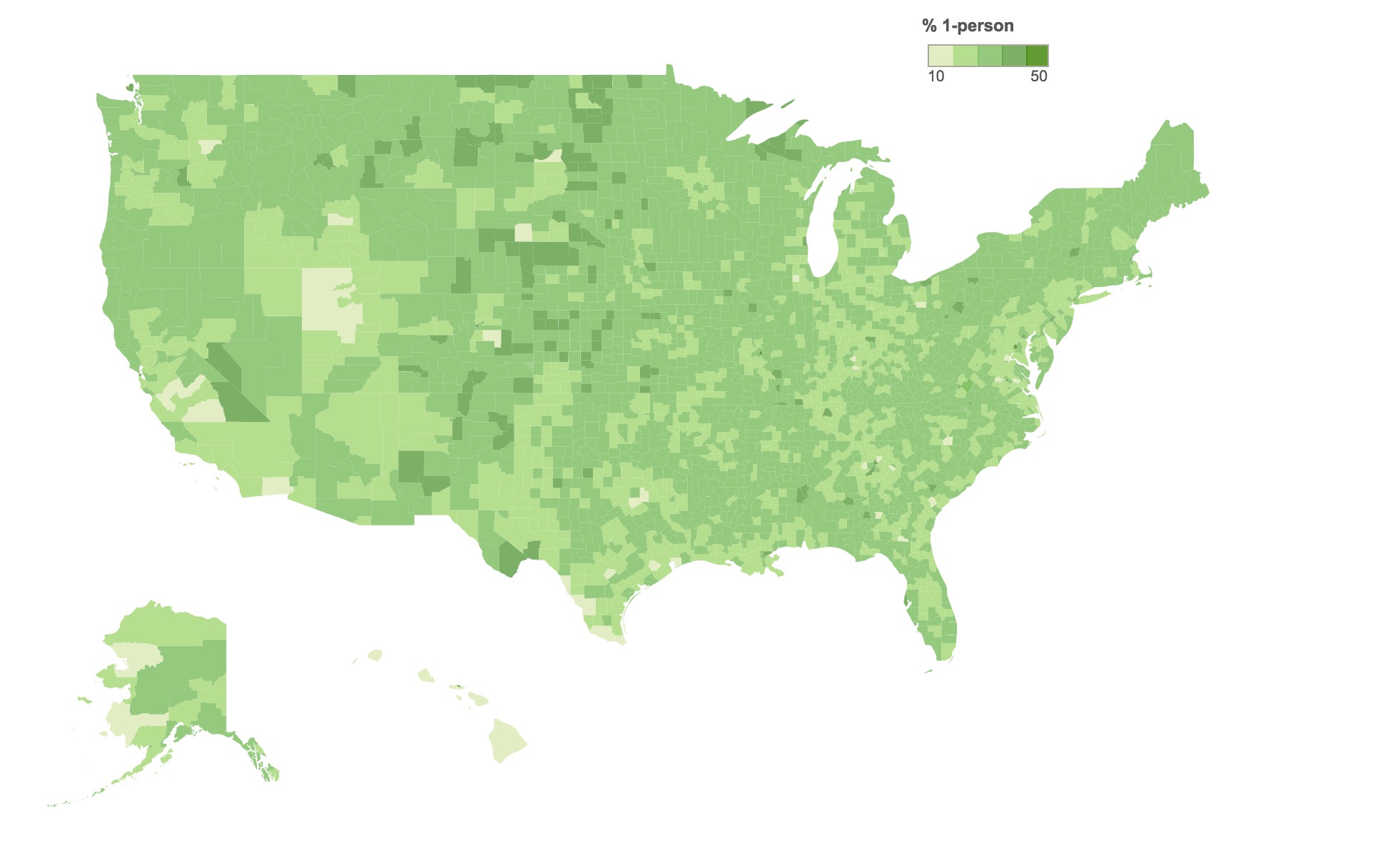 Though it only ranks 80th in terms of metropolitan area population, URBANEER's hometown of Grand Rapids, Michigan follows the national trends almost exactly, with 26% of our population living alone. Our business experience tracks national trends as well. We've observed that two bedrooms apartments in the region are increasingly difficult to rent out.
This situation is not just about new construction. The shift toward building studios and one bedrooms is a response to unmoving inventory of older, multi-bedroom units —inventory, that in all probability, is still unmoving.unmoving inventory of older, multi-bedroom units —inventory, that in all probability, is still unmoving.
What to do
So the question for many developers might be how they can make their new studios and one bedrooms better and more profitable? Additionally, how can they convert their existing multi-bedroom units into faster moving studios and one bedrooms?
Whether building new or converting existing properties, the economics of unit conversion are tricky. For example, a 2,000 square foot two bedroom unit renting for $2,000/month cannot realistically be split into two 1,000 square foot one bedrooms renting for $1,000 each. The increased development and FFE costs of the one bedrooms —not least of which being its own bathroom and kitchen —necessitates a higher rent. But this rent must not be too high or the market will not bear it.
URBANEER has found a couple ways of addressing these economic constraints:
Shrink unit sizes even further. Through smart design and space-saving furnishings, developers can shrink unit size without compromising —and often improving —renter experience. On projects like The Morton, URBANEER installed matching storage units, murphy beds, kitchens, and kitchen islands that made their sub-500 square foot studios function like much larger units. While these features added a nominal rental premium, they added greater functionality to the units than unfurnished units. They also gave them a luxury quality, creating a market differentiation for the developer, despite being smaller than the majority of properties at a similar price point.
Increase the unit density of a building. On our recent Barley Flats project, we were able to yield six more beds from the developer's floorplate, primarily by converting two bedrooms into small studios that were made as usable as larger ones with the addition of our space-saving furnishings. Not only were we able to add a greater volume of easily rentable studios, but the units with our furnishings commanded a 19% rental premium on a square foot basis —all while staying at a market-competitive price point.
The move toward smaller households composition is no flash in the pan, but rather a part of a multi-decade (even multi-century) pattern. To meet the needs of the market, it's crucial to be creative and call on the latest design and technology to adjust to market demands. That's where we can help.
For more information, drop us a line.
...